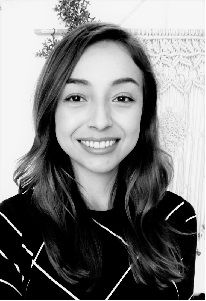 Olivia Cabadas-Guzman
2018 Undergraduate Scholarship Recipient
University of California, Los Angeles | School of Nursing
My name is Olivia Cabadas and have completed my undergraduate degree at UCLA School of Nursing to receive my Bachelors of Science in Nursing (BSN) degree. As a Bonnie A.C. Lee Fang scholarship recipient, I want to take this opportunity to thank you for your support and for your valued confidence. As a little girl, I was fascinated to hear my mother talk to me about the physiology of the human body. As I grew older and learned more about nursing, I became more interested in the career. For instance, it was interesting to discover that nurses have a broad range of specialties to work in such as pediatrics, neonatal, labor and delivery, oncology, and much more. More importantly, I loved that nurses made a difference in the lives of their patients and gave back to the community.
Throughout my undergraduate program, I was involved in many extra-curricular activities. Prior to that, I volunteered with Latino Student Health Project, a club at UCLA, and became involved in free health clinics in underserved communities such as Boyle Heights, Los Angeles, and Tecate, Mexico. I was also a school tutor for the Pomona Unified School District and helped students from grades K-12 on subjects like math and reading. At UCLA, I was a member of the Alpha Tau Delta, a professional nursing organization where I became involved in community events, such as The March of Dimes. The objective was to bring awareness about birth defects and infant mortality. During this time, I also worked closely with an elder lady who was diagnosed and suffered from the early stages of dementia. I helped her with daily activities, such as taking her to doctor appointments and assisted her with her medications. Most recently, my high scholastic achievement gave me an opportunity to become a member of Sigma Theta Tau International Honor Society of Nursing, a large nursing organization where I will be able to get connected with other nurses and have access to thousands of nursing-related research literature. By awarding me the Bonnie A.C. Lee Fang scholarship, you have relieved me from the financial strains of tuition, which has allowed me to stay more focused on my classes and clinicals. Your generosity inspired me to help others as you have helped me. As a future registered nurse, I plan to care for patients in the intensive care unit.
With my most sincere gratitude, I would like to thank you again for your generosity and support.