Thank You to Our Heroes!
---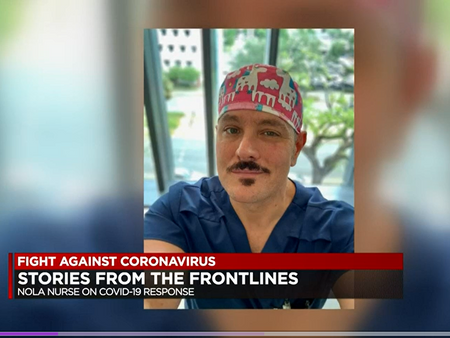 Today we want to honor Aaron Malone, an RN at University Medical Center, Crescent City, Louisiana. Here is his story as report by Christian Piekos of KSAL 12 News.
A nurse on the front lines of the COVID-19 fight in New Orleans is sounding off about life inside an intensive-care unit.
"I've never seen anything like this." Aaron Malone, who attended Northwestern State University's School of Nursing, has been in the field for over a decade. He's now working at University Medical Center in the Crescent City. "I mean, this is just totally outside our norm. It feels like any one of us can come down with it just from walking into the hospital."
KSLA News 12 is working to speak with medical professionals who are treating coronavirus patients to highlight the bravery, courage and acts of compassion being carried out on a daily basis in hospitals throughout Louisiana.
"It feels like we're flying by the seams of our pants because we don't really know what patients are going to survive, which patients are going to do well," he added. "It all seems to be really random." Malone said he initially carried a large amount of anxiety with him into the hospital due to the contagious and serious nature of the virus. "I want people to understand that this virus does not discriminate. It doesn't matter what your gender is. It doesn't matter what your sexuality is. It doesn't matter anything," he emphasized. "It's highly contagious and it kills people."
Despite the extreme precautions in place to mitigate the spread of COVID-19 in hospitals, Malone remains certain most staffers have been exposed to the coronavirus in some capacity. Whether they develop symptoms is another issue. There is hope on the horizon, however. Based off of data released by the Louisiana Department of Health, the state could be in the initial stages of flattening its curve. That's if current mitigation efforts remain in place.
"What we're doing is working, so if we continue to do this, I think we'll shorten the course of the pandemic in this state," Malone agrees. "That's really encouraging to me because I feel like we're making a dent." As of Thursday afternoon, 18,283 people in Louisiana have tested positive for COVID-19; of those, 702 have died.
Thank you Aaron for your commitment, dedication, and compassion for your patients and communities. 
If you have a story and pictures of a front line nurse you would like us to highlight on our website and social media, please email them to us at  info@helphopehonor.org.