Thank You to Our Heroes!
---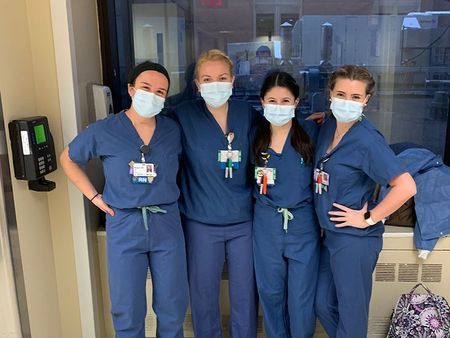 ---
Today we want to honor Amelia Conner, ICU RN, a nurse at Northwell Hospital, Manhasset, New York. Here is her story as reported by Christine Phelan Kueter for Virginia Nursing Legacy Magazine.
Amelia Conner (BSN `18), a critical care nurse in New York, is used to the bustle of a busy intensive care unit. But since the cardiac-thoracic ICU where she works was transformed, like the rest of her hospital, into a COVID-19 unit, she's found her job both surreal and familiar as the coronavirus pandemic rages across the Empire State, around the country, and spiders throughout the world.
"It's the most difficult thing I've ever done in my life," said Conner, who works nights at Northwell Hospital in Manhasset, N.Y., a short drive from where she lives with her parents and siblings. "It's hard going to work knowing I'm putting myself and my family at risk. My team at work is the only reason any of this is working."
For Conner, caring for COVID patients "isn't too different" than what she does over the course of a normal shift in the ICU. She gives medications, checks lab results, monitors vital signs, and ventilators. All her COVID patients are ventilated. Most are kept heavily sedated, and some are medically paralyzed, too. They're tethered to intravenous drip lines and require round-the-clock care.
"WE DEAL WITH VERY CRITICAL SITUATIONS ALL THE TIME, BUT THIS IS ON A NATIONAL SCALE. WE'RE BEING RECOGNIZED AS HEROES, BUT THIS IS STUFF NURSES DO ALL THE TIME."
Amelia Conner (BSN `18), an ICU nurse caring for COVID patients at Northwell Hospital, in Manhasset, N.Y.
But then there are the ways that COVID has changed everything about Conner's nursing. Her patients—who range from their 20s into their 80s—cannot breathe without high concentrations of oxygen and driving pressure (called PEEP). The goal with COVID patients, explained Conner, is to stabilize them with the ventilators, not—at least at the moment—wean them from the assistive breathing devices. And the protocols now required of all nurses caring for COVID patients are incredibly time- and resource-intensive. Northwell issued a mask mandate for all of its healthcare professionals, and when she's caring for COVID patients, Conner is covered "from head to toe" in personal protective equipment (PPE), and wearing specially colored scrubs donned in the hospital underneath.
"It's hot in there," she explained of the PPE, "and difficult to do your normal tasks when you're all gowned up. I'm wearing a face shield all the time, and all the coverings are cumbersome and make it difficult to hear." But COVID has amplified her cohesion with colleagues, too. Conner says she's been well-supported by managers, and even found solidarity among the battery of new providers she's interfaced with during the pandemic, who've become key allies.
"Yes, this is not something any of us were expecting, but we can do it," said Conner, who calls UVA Nursing faculty members Sarah Craig and Christine Connelly big influences. "If you make it through nursing school, you're already smart enough, but I say to new nurses [who will soon be the COVID frontlines], be careful. Take your time. Your patients are of course your first priority, but you have to look out for yourself, too. Ultimately we are lucky to have had our UVA training."
"And we will get through this," she added. "It will come to an end." And when it does?
"I'm going to sleep," she laughed. "And I think I need a vacation."
Thank you Amelia for your commitment, dedication, and compassion for your patients and communities. 
If you have a story and pictures of a front line nurse you would like us to highlight on our website and social media, please email them to us at  info@helphopehonor.org.