Thank You to Our Heroes!
---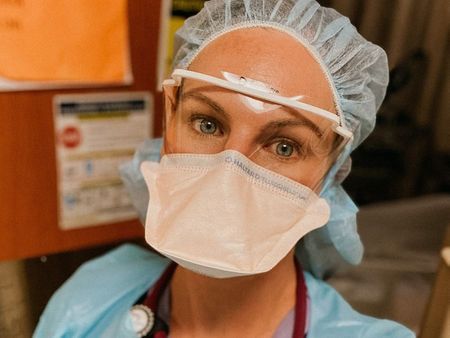 ---
Today we want to honor Analise Eastman, RN, is a nurse from San Diego, California. Here is her story as reported by Mike Freeman of The San Diego Union Tribune.
At the Chicago-area hospital where Analise Eastman works, the staff plays the "Rocky" movie theme song over the intercom every time a COVID-19 patient is discharged. "We line up and clap and cheer for them as they leave," she said. Eastman, 29, graduated from Point Loma Nazarene. She worked in nursing locally for five years before taking a break before grad school. As coronavirus cases grew nationwide, she felt a responsibility to contribute.
"If I didn't step in and help the health care system at this time, I honestly would have felt really guilty just sitting around while my fellow nurses are working their butts off." Eastman is in a telemetry unit, which handles less seriously ill patients than an ICU. Still, she is seeing plenty of COVID patients. Recently, she has been "floating to the hospital's designated COVID telemetry floor a lot."
Several patients are receiving oxygen. Sometimes, they are placed in the telemetry unit rather than ICU because of "do not resuscitate" directives. "So they come to our unit, and they will die there," she said. "It's still an intense setting, even without the ventilators and really sick patients, because there are still people dying."
When she first arrived, several nurses in her group were in quarantine after exposure to the virus. "I have heard of nurses just living in hotels on the days they are working so they don't bring it home to their families," she said. "My boyfriend is here with me. I am so grateful for the support. But I also have this fear that he is going to get it, and of course I'm afraid that I'm going to get it, but I am trying to be as careful as I can."
Cases are easing slightly at Eastman's hospital, though new COVID-19 admissions still come in every day. Several of the staff previously out sick with COVID are back working now, which has helped relieve the strain on her unit. The hospital is not allowing visitors. However, it recently began Zoom meetings between a few patients and their families. The meetings are typically reserved for those nearing end of life, but Eastman has been advocating for wider use.
"Each time I have done it so far it has brought tears to some family members' eyes and meant a lot to them," she said. "One patient's family hadn't seen her for two months because she was in a skilled nursing facility before this. They couldn't have been more thankful to see her face and tell her they love her. It brought me to tears, too."
Thank you Analise for your commitment, dedication, and compassion for your patients and communities. 
If you have a story and pictures of a front line nurse you would like us to highlight on our website and social media, please email them to us at  info@helphopehonor.org.