Thank You to Our Heroes!
---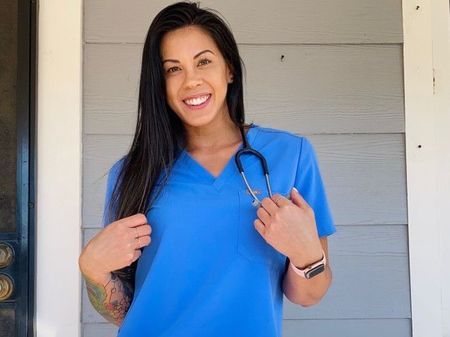 ---
Today we want to honor Cynthia Lam, ICU RN, is a reservist navy nurse in San Diego, California. Here is her story as reported by Mike Freeman of The San Diego Union Tribune.
Lam, 34, works in the ICU at a hospital in Stamford, Conn., about 40 miles outside New York City. She puts in four, 12-hour shifts per week. Early on, she would pick up extra shifts because the hospital was "fairly overwhelmed" with COVID-19 patients. In some ways, the work reminds Lam of her time as a Navy nurse in Afghanistan when the call came to "drop a nine-line," or medivac casualties from the battlefield.
"Every day you are like go, go, go because these patients are very sick and they decompensate very quickly," she said. "Sometimes you feel helpless because you've exhausted all of the typical life-saving measures that just don't seem to be as effective in this population."
Now a reservist, Lam spent eight years as a military nurse, most recently working at the Balboa Naval Medical Center. After leaving active duty, she began full-time graduate school while working per diem as a fill-in nurse at local hospitals. With the coronavirus, Lam thought she would pick up more hospital shifts locally. But she didn't.
"The cases were pretty low in San Diego," she said. "They canceled a lot of elective surgeries. I just felt like I wasn't being utilized as an ICU nurse. I was like, there are people who need me in the Northeast, and I'm sitting here in San Diego in my backyard, hanging out."
So Lam tried travel nursing. It's been a whirlwind few weeks. When she was hired, the hospital wanted her to start in six days. That meant finding a place to live across the country on short notice. The Airbnb's she contacted were either too expensive or "taken." "I would say, Oh really, because it's still online," said Lam. "It was almost like they were concerned, rightfully so, about having someone in health care in their house."
She tried an apartment complex, but it did not offer furnished units. "They began inquiring about me, and I told them I was just coming for eight weeks to help with the crisis," said Lam. "What they ended up doing was buying stuff from Amazon and furnishing the apartment for me. They were super helpful." Lam's hospital has one ICU unit. For the outbreak, it converted three other rooms into pop-up ICUs. During her first few weeks there, Lam worked mostly in the main ICU with very critical patients.
"I am a positive person and don't let things get to me, but in the moment, the deaths seem to pile up and that is sad," she said. "I thought my patient yesterday was going to die all day despite all the measures we were doing, and it just hits home because the patient is the same age as my dad, who is 66." The young patients also are hard. She has cared for people in their 30s, 40s and 50s stricken the virus. She had two pregnant patients.
"It's crazy because I think these people are just living their normal lives," she said. "Yeah, maybe they have a history of high blood pressure or diabetes or whatever it may be, but they're living great lives. It's not like they were bed-bound."
Over the past couple of weeks, coronavirus cases have eased. "We are discharging a ton," she said. "We were able to close one of our pop-up ICUs." A single mom, Lam's teenage daughter is staying with her parents. Lam agreed to extend her assignment for another four weeks, but she is looking forward to time off this summer with her daughter.
"It will be nice to have a small break and just be with family," she said.
Thank you to Cynthia for your commitment, dedication, and compassion for your patients and communities. 
If you have a story and pictures of a front line nurse you would like us to highlight on our website and social media, please email them to us at  info@helphopehonor.org.