Thank You to Our Heroes!
---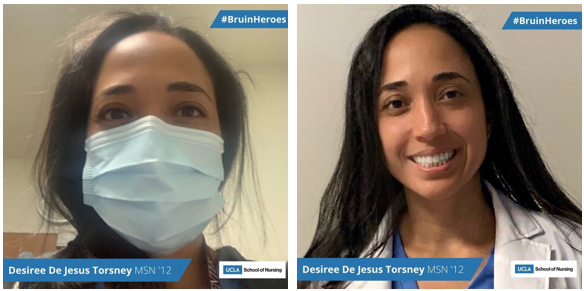 Today we honor UCLA School of Nursing Alumni Desiree De Jesus Torsney. This is her story as shared by our friends at the UCLA School of Nursing.
Desiree De Jesus Torsney, MSN '12 is a proud #Bruin! She is a Stroke Nurse Practitioner at Loma Linda University Medical Center who is helping to fight against #COVID19 through Stroke care. Since the start of the pandemic, neurologists all over the U.S. are seeing fewer strokes. We know strokes are still happening and yet patients and families are afraid to come to the hospital. She is passionate about empowering her community to live healthy lives! Early intervention for stroke is best for optimal outcomes! Remember the acronym #BEFAST (balance, eyesight, facial droop, arm weakness, speech difficulty, and Time to call 911). We are ready to help!#strokeawareness
Thank you Desiree. We thank you for your bravery and all those on the front lines, especially at this time.
If you know a nurse on the front lines we should feature, please email their story and picture to info@helphopehonor.org.