Thank You to Our Heroes!
---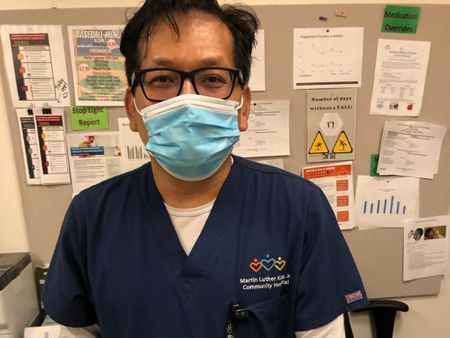 Today we want to honor Harry Nationales, BSN, RN, MSNc, a Charge Nurse at Martin Luther King, Jr. Community Hospital (MLKCH) in Los Angeles, California. 
"I've been an RN for 25 years and have experienced the last 2003 SARs pandemic, but this current SARS Covid-19 virus pandemic is so much worse and scary. Back in February, my facility was already preparing for the surge of positive Covid-19 patients. However, we didn't expect we would be rationing our PPEs. We have had to recycle our N95 masks and isolation gowns. As a Charge Nurse in my unit at MLKCH, I have had to articulate to my staff to be mindful of the shortage of PPEs, and that we have to practice proper hand washing and donning - doffing of isolation gowns when taking care of  Covid-19  positive patients.
As we have been working with our patients, I can still remember the concerned and scared expressions on the face of my staff nurse who had to admit a Covid-19 patient and as the Charge Nurse on my unit, I was able to reassure her that we are here to support her and to stay focused on giving the best possible care to our patients especially with the present restrictions for visitors. It is so hard to see how lonely and isolated our patients are feeling and knowing that being able to have a conversation with them, listening to them and providing emotional support can help them while they are here.
MLKCH is located in the heartland of South LA where we serve mostly indigent patients in a community largely comprised of Latino and African Americans. More now than ever, it is very important for us to provide the best possible care for this community. We have been so fortunate to have the generous support  and donations of food and PPE's from so many people and celebrities and feel so blessed."
Thank you Harry for your commitment, dedication, and compassion for your patients and communities. 
If you have a story and pictures of a front line nurse you would like us to highlight on our website and social media, please email them to us at  info@helphopehonor.org.