Thank You to Our Heroes!
---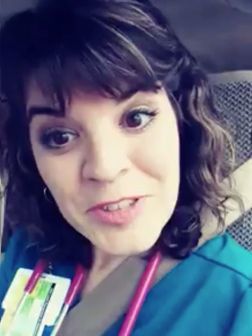 ---
Today we want to honor Katherine Locklear, ER RN, Santa Rosa Medical Center, Milton, Florida .  Here is her story by Jennifer Munoz, ABC 3, WEAR TV.
Nurses and doctors across the county have been on the front lines battling the COVID-19 pandemic. Kat Lockler is an Emergency Room nurse at the Santa Rosa Medical Center in Northwest Florida. She said they've have seen COVID-19 patients and have gotten a lot of calls about the virus. But things seem to be under control at the moment.
"I think our community is doing really well reserving the ER to for it primary function which is phenomenal because it's really allowing us to be prepared for what ever comes through the door." said Lockler.
What their emergency room is doing now is getting ready for when the virus does peak in Northwest Florida.
"We are in brace for impact mode, we are just trying to evaluate the inventory of masks and gloves and other PPE equipment and making sure when the storm hits us, it seems like it's coming in waves in a lot of areas, that we are prepared for it," Lockler said.
What they're seeing in Northwest Florida is not what nurses in epicenters like New York are experiencing Lockler said, she thanks the community for that. "I think the community following the social distancing and staying at home, I think we are seeing an effective result," Lockler said.
She wants to encourage people to continue to take precautions and practice social distancing. "Be wise, wash your hands constantly, and the biggest factor of spreading this is touching your face," Lockler said.
She is also asking people stay calm. "Don't panic, because we do have a lot of patients right now who have a cough and are feeling a little warm and they start to panic, oh my gosh do I have it," Lockler said.
While there is still a lot of unknown with the virus Lockler said they're trained to respond. The support from the community during the outbreak has been overwhelming Lockler said and she is thankful for that.
"I'm getting constant calls about what do you need, can I make you a hand made mask, can I make you a head band to hold your mask in place, is there something I can provide for you, I am just so encouraged we don't have to look to the highest level of government to think do we have support," Lockler said.
Thank you Kat for your commitment, dedication, and compassion for your patients and communities.
If you have a story and pictures of a front line nurse you would like us to highlight on our website and social media, please email them to us at  info@helphopehonor.org.