Thank You to Our Heroes!
---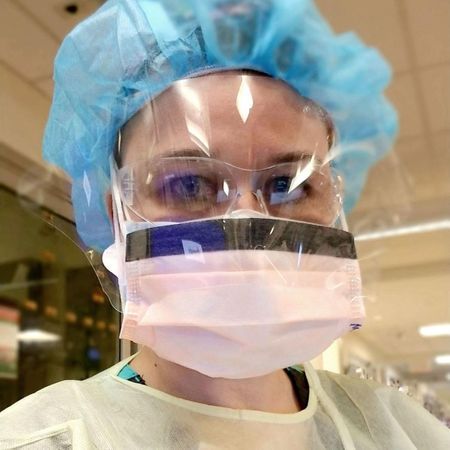 ---
Today we want to honor Laura Whitaker, RN is a travel nurse from Sullivan County, Tennessee. Here is her story as reported by Robert Sorrell of the Bristol Herold Courier |  Apr 13, 2020 Updated Apr 28, 2020
This past Saturday night, travel nurse Laura Whitaker from Sullivan County, Tennessee, stood in the middle of the Allen Hospital, a large NewYork-Presbyterian facility in northern Manhattan, to begin caring for COVID-19 patients. Much of the intensive care unit inside the hospital, located along the Harlem River, has been converted into specialty space for those suffering from the novel coronavirus, which has plagued New York City.
NewYork-Presbyterian, often named one of the best hospitals in the country, is comprised of seven hospitals. The Allen Hospital, described as a community hospital, is now almost entirely used for COVID-19 patients, like so many other facilities in New York. Rooms in the hospital's intensive care unit have been converted into makeshift negative pressure rooms due to the pandemic. The rooms allow for air flow into the room but not out, so that possibly infected respiratory droplets won't spread.
The hospital began converting the rooms earlier this year as COVID-19 cases started to increase in the city. Hospital CEO and President Dr. Steven Corwin told media it became clear early that normal ICU bed capacity would not be enough. When Whitaker, 31, was in the hospital Saturday, no one could be seen wandering the halls. It was eerie. Equipment lined the hallways of the ICU, and rooms were sealed with protective covering. It was difficult to tell, but this was the front line of the deadly pandemic.
"Working as a nurse in New York City during the COVID-19 pandemic has been one of the most rewarding yet challenging jobs I have ever had," Whitaker said. "I leave each morning physically and mentally exhausted but knowing that I have made a difference for the patients I cared for and their families."
Whitaker is one of hundreds of travel nurses and doctors from around the country responding to calls for help in New York City. Recently Gov. Andrew Cuomo temporarily suspended licensing requirements as the city pleaded for doctors and nurses to come and help. As of this weekend, 13,437 cases, including 715 cases reported on Friday alone, have been reported in Manhattan, which is at the center of the pandemic.
Since becoming a travel nurse in 2015, Whitaker has worked in Pikeville, Kentucky; Newport News, Virginia; Nashville, Tennessee; Charlottesville, Virginia, and most recently, Hazard, Kentucky. Each time she gets a new job, she is able to negotiate the terms of her contract, including deciding days off, hours, housing and other aspects of the job. In the beginning of the COVID-19 pandemic, Whitaker said she received numerous calls about jobs.
"Initially, I turned them all down as the risk seemed too great, and I have never accepted a contract so far from home," said Whitaker, who also currently serves as the Pure International Ms. America.
Last September, and then in February, Whitaker visited New York City on invitations to walk for various designers during New York Fashion Week. During those times, the city was vibrant and full of life and creativity, she said. "As information continued to come about the stay-at-home order and daily changes in New York City, I was saddened to see the once vibrant city essentially now asleep," Whitaker said. "As the need for nurses continued to increase, I began to feel called and led to work in New York City. I may never be able to serve our country in the military or law enforcement — but I can serve as a nurse."
Flying into New York City in early April was an eerie experience, the traveling nurse said. She flew from Tri-Cities Airport to LaGuardia Airport in New York with a connection in Atlanta, Georgia. The planes were essentially empty, but they were very clean, Whitaker said. Whitaker arrived in LaGuardia at rush hour. Typically, this would be a very busy time at the airport, but there was almost no one in the terminal. A car picked her up and took her to the hotel.
Whitaker said she is staying at a "wonderful hotel" in Manhattan. The hotel manager has been helpful in assisting Whitaker with adapting to city life. The manager is also helping Whitaker with "everything that I need to take care of myself so that I can take care of the people of New York City." Whitaker is contracted to work 48 hours, four 12-hour shifts, a week at NewYork-Presbyterian/ Columbia University Medical Center. She's assigned to the ICU float pool, which means she will work in the unit that has a need for a nurse.
At the beginning of each shift, Whitaker reports to the nursing supervisor, who tells her which unit she is assigned to for the night, which currently includes units caring for COVID-19 patients.
"My nursing background has allowed me to be educated on and have the experience to care for the most severely critically ill patients," she said.
On a typical night, Whitaker will have two patients assigned to her. Due to the patient acuity currently, it is not uncommon for both patients to be on life support with multiple devices and medications to manage for the night. The hospital scene where Whitaker works has not been quite as dramatic as portrayed by some media outlets, she said, but it is definitely serious.
"This is real y'all," she wrote in Facebook post. "This virus is infecting unsuspecting people and they are dying — by the hundreds. It is absolutely heartbreaking to see the shell that this virus leaves behind."
More than 1,100 people have died of the COVID-19 virus in Manhattan, according to the New York Department of Health. Late Sunday, Whitaker said that she's lost two patients to the virus. And with every unit filled with COVID-19 patients, there is always a concern about contracting the dangerous virus. "I am concerned about catching COVID-19 while working on the front line and living in the city in general," Whitaker said. "My hospital has been wonderful in providing the PPE needed to protect myself as much as possible. I also frequently disinfect my room."
One of the most incredible parts of working in New York City has occurred each day at 7 p.m. "It amazes me that despite what is going on in the city, each evening, New Yorkers all pause at 7 p.m. to clap, cheer and make noise to celebrate the essential and front-line workers who remain the pulse that keeps the city alive," Whitaker said.
Several videos of the moment, including some captured by Whitaker, have been shared on social media. Whitaker will serve the city for 13 weeks. "I am very proud to have been born, raised, educated and live in the Appalachian Highlands," Whitaker said. "I am especially honored to represent our area as I show the heart and grit of a Tennessee volunteer while I serve the people of New York City."
Whitaker isn't the only person from the Mountain Empire currently working on the front lines in New York City. Kirsten Flanary, a Lee County, Virginia, nurse is also helping COVID-19 patients. "My heart has been telling me to go to New York City for a few weeks now and on Friday I made the courageous decision to do so," Flanary wrote on Facebook earlier this month.
Corwin, the NewYork-Presbyterian CEO, said, "The outpouring of selflessness is extraordinary. It's a real spirit ... it's the American spirit, it's the New York spirit, it's a can-do attitude," according to a Twitter post.
Thank you Laura for your commitment, dedication, and compassion for your patients and communities. 
If you have a story and pictures of a front line nurse you would like us to highlight on our website and social media, please email them to us at  info@helphopehonor.org.