Thank You to Our Heroes!
---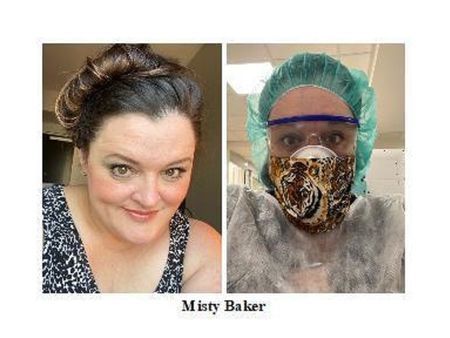 Today we want to honor Misty Baker, a ICU RN from Randolph County, Alabama.  Here are some highlights of her story as reported by Mike McCormick from the Randolphleader.com.
'This week we talk with Misty Baker, who worked at New Rochelle in New York City, the epicenter of the virus, and Meridian Health-Hackensack in New Jersey.
As the story with Misty begins, it should be noted she not only worked as a nurse on the front line, but was also a patient on the front line. Last week as she was driving home to Wedowee, she encountered yet another front line.
Education and family
Misty has three children, one daughter, Gabrielle, and two sons, Paiden and Ricklen. She is a graduate of Deshler High School in Tuscumbia and received her nursing degree from Northwest Shoals Community College and University of South Alabama. After getting her degree, her first job was at Helen Keller Hospital in Muscle Shoals. She then moved to Randolph County and worked for a rehab center in Anniston. Misty worked seven years at Traylor's Rehab in Roanoke and then took a job in the emergency room at Wedowee Hospital. She is currently employed at Gadsden Regional Medical Center in the PAC Unit.
A personal experience in her family
Early in 2020, Misty's son was diagnosed with COVID-19. She saw the virus as a critical medical condition, and it became near and dear to her heart. When he was exposed in college and later diagnosed, she just wanted to help other people. She said, "It was so close to me, being in my family and thinking about everything we went through. I was so scared that he was going to be really sick, and he was sick for several weeks." She went on to say he never had to spend time in the hospital.
When she made the decision to go work on the front line, her family really didn't want her to go. She said, "They told me if I made one mistake, I could get sick and die. After we sat down and discussed, they said they understood and they knew I had a heart to help hurting people and that I would be OK. I told my older son he had to take care of his younger brother."
Doubling up in New Jersey and New York
On her drive up to New Jersey, where she had taken a contract, she got a phone call wanting to know if she would work an assignment on her off days in New York. She told them she would, so she would be working 12 hours a day, seven days a week. "On my very first day, I arrived at the hospital, and I saw two deceased patients. They were waiting for someone to pick up the bodies. We had another patient that died within an hour. The one thing I remember most about that first day was how we had to prepare the bodies. It was something I had never gone through in all my years of nursing, and it was very emotional for me," said Baker.
She said she had to call family members and tell them their loved one had passed away, and some of the families had not seen their loved ones in weeks. She said, "I'm just not used to doing that. You go from room to room and get yet another one that had died. We had so many intensive care units that had been transformed from other units. Another thing that bothered me was the shortage of personal protective devices. We had to wear the same gown all day long. You really didn't want to go anywhere because if you took it off, you had to put it back on dirty, and that was scary because some of the patients I had to work with died."
A memorable experience
Baker revealed, "I worked with a patient that I really got close to the family. I was taking care of their wife and mother; in fact, I did most of the time I was there. On my birthday, I got a card from that family with a check enclosed. I called the family and told them I couldn't accept the check. The husband said, 'God sent you here for us, and if I could, I would send you a check every week for the rest of your life for what you did to try and save my loved one's life'." Misty went on to say she helped the family see their loved one during her last days, which was just before Mother's Day. She said the funeral was special, even though she didn't get to go but did get to watch a live stream.
"The family was close friends with the funeral director, so some special things happened at the funeral. The son-in-law got to drive the hearse, and the family got to gather for the funeral. They were special and will always be special people to me," she said.
An unexpected roadblock
About three weeks ago, Misty encountered something she never expected. "I got an accidental needle stick from a delusional patient. Now I've got to be tested for a year for the virus ... All the other tests were negative. I wasn't really feeling well one day, and I ended up in the floor at the hotel one afternoon. I found out I had pneumonia in both my lungs and a large kidney stone," she explained. Misty spent time in the hospital, the very one where she was working. Just last week, she had to go back for complications because she had a high fever.
"I have been tested and tested and tested for coronavirus and antibodies, and they have all been negative. I was moved to another unit for two weeks before I was scheduled to come home," she said. After all she has been through, she doesn't want to come home and catch the virus from somebody being careless and not taking precautions.
Some bad memories
"I saw a lot of death, like I had never seen before, and I saw people come in that were infected that had brain bleeds, blood clots and so much more. What people don't understand is COVID-19 affects more than just the breathing and the respiratory system," Baker explained. "I saw people struggling to live and some praying to die because they didn't want to be back on the ventilator. These were people that just days before were walking around like normal, and then their life was completely changed forever. When we started seeing a large number of children, it was very emotional because they just don't know a whole lot about how it is affecting the kids."
One experience she didn't understand was a few days after she first arrived. She said, "I didn't realize that a large number of people think that medical professionals are spreading the virus. I went to a store to get a few things, and when I came out, there were three men just standing there. I was wearing my nurse's uniform, just off work, and one of the men just turned around and spit at me - for no reason at all. He said we needed to keep that [expletive] at the hospital instead of trying to spread it."
She said the storeowner called the police about the incident and said she literally was in shock. She said, "I was almost brought to tears because I thought that might be the next person I would be taking care of or their family."
After the shift
"When I got off my shift, at whichever hospital, I would go back to the hotel, and sometimes I would literally sit in my car two hours or more and cry because of what I had seen that day. Not only that, I was worried about people back home because so many were not taking the virus seriously. I was so afraid back home would end up like here. If people could see what I have seen, patients so very sick and praying to die ... They WOULD realize it is real and it is serious. It's not a joke and it's not propaganda," stressed Misty.
"I just thought and prayed before I would even go into the hotel. I don't guess some people will believe it til it hits close to home in their family. I didn't watch television, I didn't listen to the radio, I just spent time in the quietness of my room, praying and thinking - praying for God to protect me, that I not get the virus and never be able to see my family again - my body might not have made it back home. Rest doesn't come easy after a 12-hour shift, seeing what I saw and having so many thoughts in your head."
One day after her shift, she had the opportunity to participate in a peaceful march around New York City. She said, "I just wanted to see what it was all about."
A surprise homecoming
When she finished her last shift on Thursday night, Misty said she went to the hotel, packed up her belongings and started driving home. "I was going to fly and have my car shipped home, but I decided it was time to go home, and It would be a surprise for my kids. My dear friends, Steve and Kathy Murphy, were the only ones that knew I was driving home, so they planned a little lunch for my kids. The kids were supposed to pick me up at the airport on Friday afternoon, but I wanted to surprise them ... and I really did!"
Going back?
Misty said before she left New Jersey and New York, they asked her to stay a little longer. "I am on leave of absence from my job in Gadsden, and they have really been good to me. Will I go back? I do feel like there is going to be a second wave later on, and yes, I did tell them I would come back."
Closing thoughts
"I just want people to know the virus is real. I know it firsthand, I saw it, I saw sickness and death. It is nothing to play with or joke about. I want people to know how much I appreciate the prayers and thoughts. I didn't come here to be a hero, I came here because I care about people, and it is what God called me to do and wants me to do. I love all of you, my family and friends, and again, please take this virus seriously."
Thank you Misty for your commitment, dedication, and compassion for your patients and communities. 
If you have a story and pictures of a front line nurse you would like us to highlight on our website and social media, please email them to us at  info@helphopehonor.org.