Thank You to Our Heroes!
---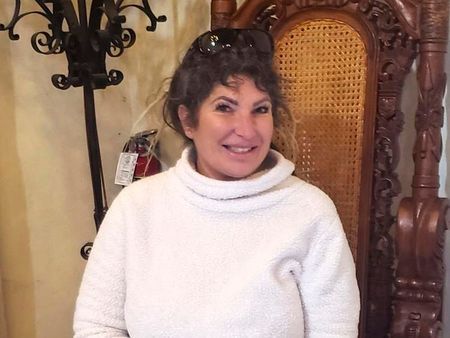 Today we want to honor Trina Vargas, a traveling RN from Newman, California.  Here is her story as reported by the WestSideConnect.com.
Trina Vargas is a traveling registered nurse who reported to her 13-week contract with a Bay Area hospital just as the coronavirus pandemic was emerging.Vargas started her contract in recovery - but as the pandemic developed the elective surgeries halted and she was regularly helping care for COVID-19 patients and critically ill patients who were under investigation for the viral infection.
"We were utilized as ICU nurses, to transport COVID patients from trauma to the ICU, down in the ER," she explained. "Travelers were used everywhere, which is fine because my background is in trauma and recovery."
Vargas, who will be leaving for a new contract on the East Coast in mid-June, described fear and frustration among medical providers trying understand the new disease and determine how to best care for patients.Those emotions, she said, were born of going home to their own families after "seeing the disease process and how it would progress in patients, and how it was different from your basic pneumonia."
The COVID-19 disease process follows no clearly-defined progression, she pointed out, and can affect patients in vastly different ways. The vast amount of information surrounding COVID-19 was often conflicting, Vargas added.
"People were contradicting each other on what to do, what not to do and when to do it," she recently told Mattos Newspapers. "Hospitals would follow what the CDC recommended. A lot of the nurses on the front line see things and deal with things differently. The things that we would experience were not necessarily (what you would see) on the news."
Vargas said she believes a more accurate portrayal of COVID-19 in the media would be, if anything, more frightening to the general public.
"I think they would take it a little more seriously," she reflected. "Those who don't take it seriously won't understand the severity of COVID until it affects somebody they know."
As a nurse, Vargas said, her passion is to care for patients.She said she relies on both her strong Christian faith and her professional training and personal protective protocols to overcome fears surrounding COVID-19 - and tries to keep herself as healthy as possible. Nurses did not always have sufficient supplies of personal protective equipment during her contract, Vargas she said, and she did have to re-use equipment that normally would be discarded. That situation was common among medical facilities, she added.
"You have to learn to be flexible and to work with what you have. I am not afraid of COVID-19 or the patients. They are just like anybody else with a disease process that needs to be taken care of," Vargas remarked. "There is always a fear, but if I went to work every day with fear of my job I wouldn't be good at what I do."
Her biggest worry, Vargas said, is unknowingly being infected and bringing the virus home to family.
"My fear is not for myself but giving it to somebody else," she commented.
Nurses, Vargas added, are not routinely tested for the virus. Those showing symptoms are tested, she explained, but absent symptoms are typically not.
"If you have been around a patient who was initially negative and now they're positive, sometimes they will allow staff to be tested if they met certain criteria," Vargas told Mattos Newspapers. "The general public probably gets tested more than health care providers."
Vargas, who estimated that 60 percent of the patients she cared for during her most recent contract were suffering from COVID-19, said the highly contagious nature of the virus and required precautions meant that patients lacked direct emotional support from loved ones.
"Their family support system is gone. When you are sick, you need that emotional support system," she explained. "The nurses do the best they can but they are pushed with three or four other sick patients as well. As much as we try to be empathetic, it is hard. There are patients who have died without their family members (present). It is very sad for everybody."
During her 18 years as a registered nurse, Vargas said, the Ebola outbreak was most similar to COVID-19 - but the scope of the two viral diseases is vastly different. While the United States was able to contain Ebola, she said, that has not been the case with COVID.
"I think we're going to be dealing with this for some time to come," Vargas reflected.
Much remains to be learned about the virus and the disease it causes, Vargas stated, and she would like the knowledge and experiences of the front-line providers tapped as part of that research process.
"Talk to the people who are in it every day. If more of those people would stand up and explain their knowledge base of the disease, maybe there could be a collaboration of scientists and researchers to find something to cure COVID," she said. "Listen to the front line workers to find out what is being dealt with, what they are seeing in the symptomatology and in the x-rays."
In her upcoming contract with a New Jersey medical facility, Vargas said, she will be working in recovery and the emergency room.
"I will be dealing with whatever comes in, not the existing patient," she explained.
Vargas said she will be working on the East Coast for the first time.
She chose to go to New Jersey for the experience and the opportunity to learn more about how others are treating COVID patients. Vargas, a 1989 graduate of Orestimba High, is also pursuing her master's degree to become a nurse practitioner. She has been in the health care field for nearly 30 years. Vargas, the daughter of George and Roberta Vargas, said her upbringing instilled an appreciation of the importance of serving others.
"Watching my dad in the fire department and just going out and helping the community.....I wanted to be a part of that," she reflected. "I love what I do, taking care of patients."
Thank you Trina for your commitment, dedication, and compassion for your patients and communities. 
If you have a story and pictures of a front line nurse you would like us to highlight on our website and social media, please email them to us at  info@helphopehonor.org.