Thank You to Our Heroes!
---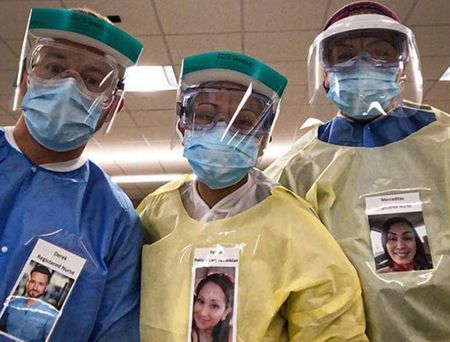 Today we are proud to honor healthcare workers around the country as they work the front lines with their patients.
Health care workers across the country are finding creative ways to show COVID-19 patients that they're not alone. Even their small gestures can go a long way, whether it's connecting isolated patients with loved ones by phone or making hospital discharges celebratory and memorable for patients.
"Share Your Smile" is one small but positive gesture. While caring for COVID-19 patients, health care workers are decked out in full personal protective equipment from head to toe. To look less intimidating, these health care heroes are attaching large badges with their photos to their PPE gear, so patients see their smiles and not just the masks. Robertino Rodriguez, a respiratory therapist at Scripps Mercy Hospital in San Diego, told HuffPost, "A reassuring smile makes a big difference to a scared patient."
Thank you to all the front line healthcare workers for your commitment, dedication, and compassion for your patients and communities. 
If you have a story and pictures of a front line nurse you would like us to highlight on our website and social media, please email them to us at  info@helphopehonor.org.