Robin C.F. Lee, DDS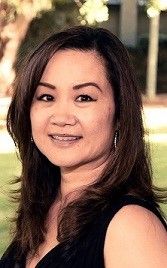 Robin Lee is the President and one of the founders of the Bonnie Fang Foundation which was established in 2002. Professionally, Robin earned her DDS degree from the Loma Linda University School of Dentistry in 1989 and practiced family dentistry in Orange County, California for seventeen years before retiring in 2006.
Upon retiring from Dentistry that year, Robin accepted the position to serve as the President of the Bonnie Fang Foundation and continues to lead the Foundation in it's mission to assist student Nurses through financial assistance. From her accomplishments in the Dental Profession, Robin has incorporated her expertise in customer service, staff management and communications skills to the Foundation. During her free time, Robin enjoys photography, artistic projects and taking care of her family.
"I am compassionate about helping and making a difference in other people's lives and my role as President of our Foundation has given me that opportunity. It is my privilege to be able to continue my mother's legacy of helping others."
Interested in becoming involved at our Foundation? You can reach Robin at robin@helphopehonor.org for more information.